So I've been wanting a bench for our master bathroom so I could have something to prop my feet up on when I'm painting my toenails (Yes mom I will put a towel down first) :), hehe you could say I'm a bit messy with finger nail polish. Anyways, I also just like to have something besides the skinny edge of the tub to sit on as well, so that's how the search for a cute little bench began.

I of course found a rather expensive one at Pier 1, that I absolutely love and is exactly what I want. But I'm not going to pay over $90 for it. Here it is... (It's on sale for $80 now, woo hoo, not!) :) hehe The one I actually like is all different shades of turquoise, it's really pretty.
Found the pic of the blue one Adam had taken for me! :)
Anyways, my Mom and I were at one of our local antique store/flea market/thrift store places. haha It's just a big ol' mess of a store, but I love it because they have awesome deals! :) 90% off is just my style! :)



So I had seen a cute bench several months ago in the back room and then the next time I went it was gone. I was kind of sad, because it was only $20 and I talked myself out of it like an idiot. Well, Mom and I were there on December 23, and what do you know, right up front, there is my bench. hehe :) Turns out the vendor had moved their stuff up front, and I guess was in the process of moving and I just hadn't seen the bench. Well it was only $15 now!! YAY!! :) haha Well I snatched it right up and it went home with me this time. haha
Here she is...
Even though her retro print is cool, I'm still planning to recover her. Maybe I can re-purpose this cute fabric for something else. :)
I haven't had time to re-cover it yet, but we are planning to duplicate as best as we can. I love the patchwork look of the Pier 1 one. Keep checking back, I'll post it as soon as we are done with it!
I'm linking up to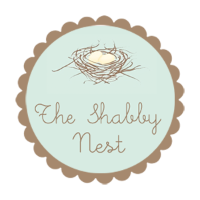 and
and